Hello Beloved at Aldersgate UMC!
I am thrilled to be beginning as your new pastor this month, and can't wait to get connected and engaged with you all! I have barely started and I can already tell that this is a church that wants to matter in its community. I can sense an authentic love, a humble heart, and a bold but servant hearted spirit among you. I can't wait to dig in! So here's a bit about me…
The Name: First and foremost: My dreaded last name! My last name is Baudhuin and is pronounced bo-dwin. It's French in language, but it is a Belgian name. It's best just to avoid it whenever possible! Fear not, if you misspell or mispronounce it. It's really ok. Alright, glad we got that out of the way.
Coming Home: Growing up about a mile east of Lake Harriet, I am a born and bred South Minneapolis boy. I attended Clara Barton Open School for elementary school and Jr. High and am a proud Minneapolis South High graduate. Sparing the details of a long story, about 2½ years ago my wife Betsy (a proud Edina native), three kids, our dog and I moved to St. Louis Park renting a dear friend's home in the Browndale neighborhood. After 15 years in the outer-ring suburbs, moving to St. Louis Park felt a bit like coming home to us, since we both grew up near here and even met at the 44th and France Brueggers where we both worked back in the day. What Betsy and I soon discovered is that we LOVE St. Louis Park and have never felt more at home anywhere else. Over the last two years, I have commuted from SLP to Rosemount where I served as the Associate Pastor for five years. When the District Superintendent contacted me about serving Aldgersate, I was thrilled. I count it a deep blessing to be able to serve a church in the town I call home and have grown to love.
The Family: My wife Betsy is a Registered Nurse in in-patient psych at Hennepin County Medical Center downtown, so you will be seeing her on about an "every other Sunday" basis. She has a smile that can light up the darkest of rooms, and without her I'd be stuck at home looking for my keys and my wallet. We have three kids who keep us pretty busy and on our toes. Our son Sam is 12 (going into 7th grade), and you will likely find him making creative videos, mixing music on Garage Band, playing the tuba (he loves his tuba), and watching Dr. Who. He's the one with the scarf- it's a Dr. Who thing. We also have twin daughters, Natalie and Abby, who are 10 (going into 5th grade). Though they are genetically identical, they are indeed their own persons. Natalie has short hair, loves her arts and crafts, and enjoys fencing. Abby has long hair, and you'll usually find her on the basketball court or the softball field. Finally we have a pooch named Reggie who means well, but is a bit spastic, and believes that no one really has the right to walk in front of or in the vicinity of our house.
As you may have read elsewhere, I've been working professionally in ministry for about 18 years, the first 13 of which were in youth ministry. I have a deep love and passion for teenagers, but about 8 years ago, I felt a call not out of youth ministry, but beyond it. I sought and received credentials as a Licensed Local Pastor and was appointed as the Associate Pastor to Rosemount UMC. When it comes down to it, I simply get fired up about seeing people, all people, coming alive in God. I look forward to the work here at Aldersgate and I believe God has some great things in store for us. It will not come without risk, without faith, and without bold steps, but great things are on the horizon. Are you ready? If you want to contact me, you can try the office or you can email at pbaudhuin@aldersgatemn.com. I'm also pretty active on social media. To find me on Facebook and Instagram just search my name. My Twitter handle @BeligianFriar but you might find me by just searching name.
Thanks for letting me serve as your pastor! Blessings to you all and I look forward to getting to know you!
Paul
Aldersgate UMC is seeking a Director of Children & Youth Ministries
"A church of all ages building community through Christian outreach focused on youth and the creative arts."
Become an important part of the Aldersgate UMC mission. The Director of Children & Youth Ministries is responsible for developing a Christ-centered environment and ministries where children and families feel welcomed, valued and nurtured in their faith journey. Our church is a small chruch with the resources for growth that would like to build a population of young Christians to become servant leaders in our church, the community and the world.
CLICK HERE TO SEE THE FULL JOB DESCRIPTION AND APPLICATION PROCESS
Summer Fun and Fellowhip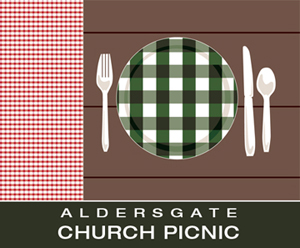 The Member Care Committee would like to invite congregational members, visitors and guests to the all-church pot-luck picnic. It will be a wonderful time to gather together for food and fun with indoor and outdoor (weather permitting) activities for all ages. This will also be a great chance for members to get to know Pastor Paul and his family, and for them to meet members, in an informal setting. More information and sign-ups will be available at church on Sundays July 19, July 26, and August 2, and/or by calling the church office after July 19.
WHERE: Oak Hill Park – 3400 Rhode Island Ave. S. (about 2 miles from Aldersgate). Parking, sidewalks throughout the park, and the pavilion building with indoor bathrooms are fully accessible.
WHEN: Sunday, August 9, 11 am (immediately after worship) – 3 pm
Paper goods, hamburgers & hot dogs and fixings, and beverages provided. Please bring a dish to share.
Church Office Closed
The church office will be closed on Wednesday and Thursday, July 1 and 2, and on Monday and Tuesday, July 6 and 7. For pastoral needs please call Pastor Paul at 612-718-9058.