Welcome to Aldersgate United Methodist Church!
A Look at Luke:
A 15 Week Series in the Gospel of Luke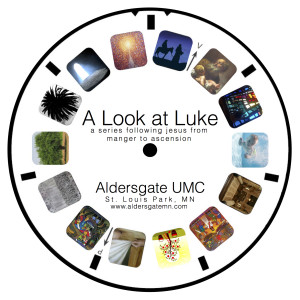 Join us as we take "A Look at Luke" here at Aldersgate UMC. On Christmas Eve we will launch a new series on The Gospel of Luke that will take us from the manger to the ascension. This series will include daily readings (listed on a bookmark we will provide for you), a daily blog (www.alookatluke.wordpress.com) on those readings by Pastor Paul and sermons each week that will dig into selected readings. Also, consider getting a small group of friends together to meet regularly to discuss the series. Pastor Paul would be happy to get you started. So join us as we examine the life, teachings and way of Christ in the Gospel of Luke. It's a beautiful story. Don't miss it!

Come just as you are and join us for gathered worship
Sunday mornings at 10:00am.