There is currently a great amount of construction going in our neighborhood. Below is a map of road that should be accessible in getting to our building. Part of the overall plan for this neighborhood is that when it's all done, the only way to access our building will be from the north entrance. For now, you can still access it from both, however. Sorry for the inconvenience!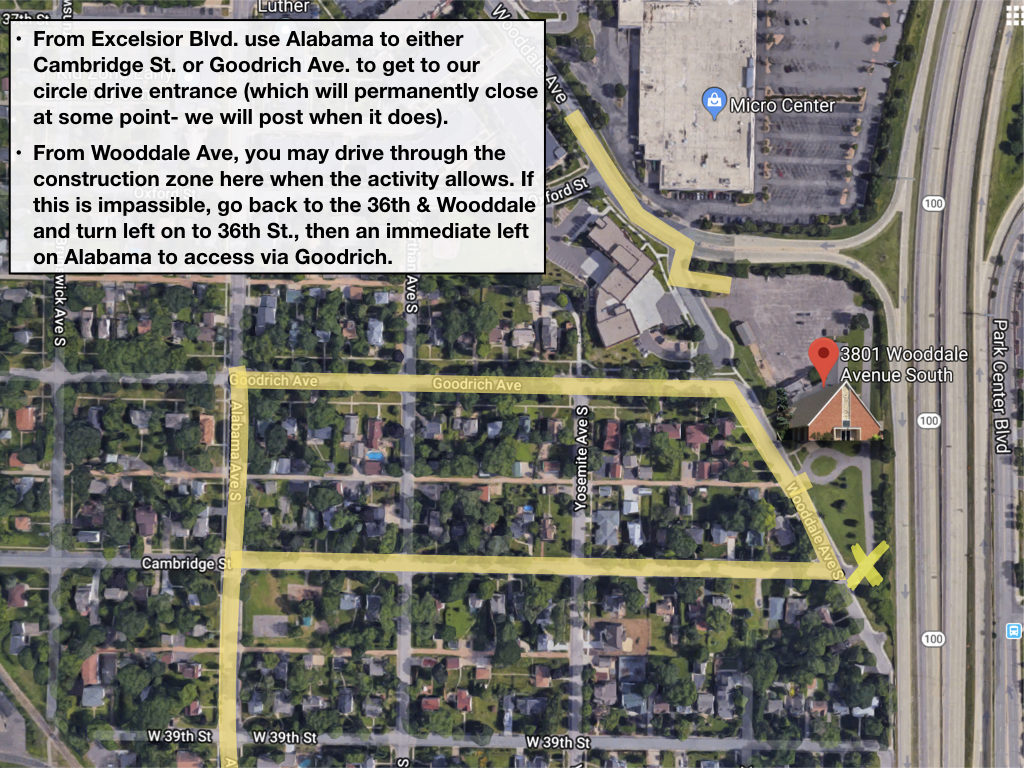 Aldersgate United Methodist is located at 3801 Wooddale Avenue South near Highway 100 and 36th Street in St. Louis Park. We are right across from Micro Center and the Burlington Coat Factory.
Coming from the North:
Take hwy 100 south and exit on 36th street/Excelsior Blvd. Follow the 36th Street Exit (right lane) and take the first left, which comes up quickly. You will then see us immediately on your left.
Coming from the South:
Take Hwy. 100 north and exit on 36th street exit. Follow exit around to the stop light. Turn left on 36th st. to Wooddale Ave. Turn left on to Wooddale and follow until you see us on your right, but careful! If you miss that turn, you're right back on Highway 100!
Click here to find us Google Maps!
If you arrive late, don't worry about it! We don't mind at all. If you park on the street on the South side of the building, you can enter from the back of the sanctuary and sneak in largely unnoticed, but either way don't sweat it. We'll see you Sunday!
---
Staff Directory:
Pastor: Paul Baudhuin
Children & Youth Minister: Erin Evans
Worship Coordinator & Music Director: Serena Steffenhagen
Handbell Director: Christina Herold
Nursery Leader: Jennifer Wood (contact Children's Director)
Financial Secretary: Judy Chirpich
Office Administrator: Serena Steffenhagen
Custodians: Anne & Maxwell Kebasso