---
Checking Us Out?

We'd love to have you join us! When visiting, you will find a warm and welcoming congregation who cares about others. Let's face it: Coming to a church for the first can be intimidating and even awkward. Below you will find a few tips that may be helpful.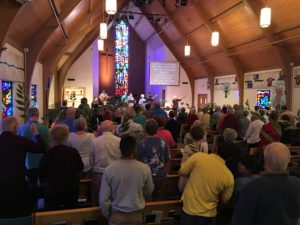 We worship on Sundays at 10:00am and offer a vibrant, intimate, and authentic worship experience. In worship we sing praises to God, testify to how God is active in our lives and the world, pray for one another and the world, and in our sermons we explore the Story of God and God's People together. If you can't make it in person, load us up in STREAM-LAND at this link every Sunday at 10:00am CT. If you missed us, check back there for recent sermons.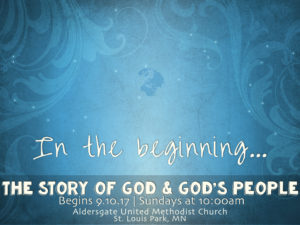 The Story of God & God's People: During the school year, we use a series of Bible readings called "The Narrative Lectionary". This is a four year cycle of readings that takes us through the Biblical story each year, with each year focusing on a different Gospel as its root. As we journey through the Story of God and God's People, we explore how individual stories fit into the over arching narrative, we look at hard stories that trouble us as well as beautiful ones that bless us, and we keep our sermons rooted in their context, but also look at what they have to say for us here and now. We hope you'll join us on this wild and beautiful journey of entering into the Story of God and God's People!
Where are you Located? We are a little tricky to find. You'll find us on the West side of Highway 100 between the 36th Street and Excelsior Blvd exits. Our parking lot is on the North side of the building (36th street side) and this is also where our main entrance is. But you can also park on the street on the South side of the building (Excelsior Blvd. side). Note: to access our parking lot, enter from the North side, as there is a barrier on the road between the North side (entrance to the parking lot) and the South side. Our address is…
Aldersgate United Methodist Church
3801 Wooddale Avenue South
St. Louis Park, MN 55416-5197
Phone: 952-929-6725
Where Do I Enter? Most people use the parking lot entrance to the church and enter the sanctuary at what is the front and side of the sanctuary. But many also park on the street on the South side of our building (street parking) so that they can enter from the back of the Sanctuary (especially if they're running late!). When you enter from the main entrance (North side where the parking lot is) head upstairs and through our gathering area and into the sanctuary. There is also an elevator immediately to your left as you enter from the parking lot. If worship has already started, don't worry just walk right in. Yes the space and time is holy, but so are you! Just c'mon in.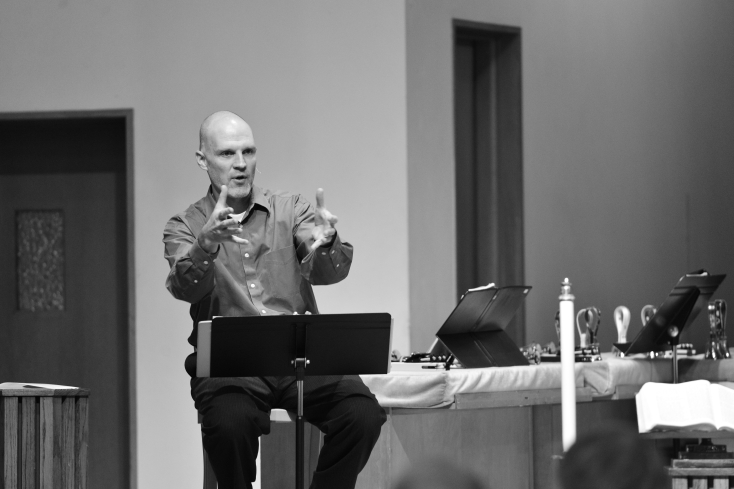 What style of worship do you offer? We offer a simple, casual, authentic worship experience with a mix of some contemporary features and some more traditional features. The entire service is projected on screen at all services. We also have a time for people to share what is on their heart, what God is doing among them, and any prayer requests they would like offered during our prayer time. Simply wave your hand during that time and an usher will bring you a microphone. If you are online in Stream-Land, you can text prayer requests to us (the number will be on the stream). Communion is not currently offered because of COVID-19, but when we feel it is safe to do so again, it is served on the first Sunday of every month and all are welcome to partake, no matter your age, faith tradition, or sexual orientation, or gender identity. And in all services we believe you will experience a passionate, casual, authentic, Biblically based message which is relevant to your life.
What should I wear? We have no dress code – come as you are. Really. We mean it. Come as you are. You will see some dressed business casual here, and you will see some in shorts and t-shirts. We just want you to be you. And that goes for your kids too. Pastor Paul usually wears jeans, and dress shirt or sweater (sometimes a t-shirt), so, seriously, feel free to dress however is comfortable for you. If that's shorts and flip-flops, great. If that's a suit and tie, go for it. You be you.
What do I do with my kids? We have a nursery available year round during the service for kids who are preschool age and younger, although families are also encouraged to worship together. At one point during the service we have a "children's message" where all kids are welcome to come forward for a brief time with one of our trained adults who unpack a bit of that week's Bible story in a relevant way for kids. After that the preschool age and younger ones head to the nursery and kindergarten and older kids head back to their parents. If you are going to send your littles to the nursery, you'll want to check in with our Nursery Coordinator. You can do this before the service in our Gathering Area just outside the Sanctuary or you can do this after the children's message in worship. Either way, we ensure that your kids are provided a safe, nurturing, and loving experience in our nursery. During the school year, kids in K-5th grade are invited to Kids' Time which begins after the Scripture is read in worship and ends about 11:15. They will be invited to head out of the service with our Kids Time Team, but are also more than welcome to continue in worship with you. All that said, all these ministries are currently on hold because of COVID protocols. We still have a Kids Time in worship, which is an explanation of some to the activities in our "Faith at HOME" resource. For about that head to our Devotion page.
How Accessible Is Your Building? We have ramps into both our South and North side entrances. When you enter on the North side there is an elevator immediately to your left. Head up the elevator to our gathering area and sanctuary. We also have large print bulletins available and project all readings, prayers and songs on a screen. If you have any needs, do not hesitate to ask one of our greeters or ushers! The only part of our building that is not accessible by wheelchair is the Chapel, which is now vacant.
How Can I Become a Member of Aldersgate UMC? If you've been coming around Aldersgate UMC for a while and are interested in joining, fill out the form here and we'll be in touch!
---
Staff Directory:
Pastor: Paul Baudhuin
Worship Coordinator & Music Director: Serena Steffenhagen
Handbell Director: Christina Herold
Nursery Leader: Jennifer Wood
Financial Secretary: Kathy Anderson
Office Administrator: Serena Steffenhagen
Custodians: Anne & Maxwell Kebasso