Devotion: For Life Groups and Families
Welcome to our Devotion page. Here you will find general information about how we engage in smaller communities from "cradle to grave", as well a growing library of resources for personal and group Devotion. Two main resources here are our weekly personal and Life Group devotion resources, "Faith at Home" (a resource for families) and "Devotions for Life" (a resource for Life Groups).
---
What is a Life Group? A Life Group is what we call a 21st century, Aldersgate Church version of the traditional Methodist Class Meeting. We believe the Life Group to be the engine for all of our discipleship which is rooted in our rule of life, which is: To witness to Jesus Christ in the world and follow his teachings through acts of compassion, justice, worship and devotion under the guidance of the Holy Spirit." (The UMC General Rule of Discipleship). The Life Group meets regularly, usually around a meal in someone's home, where people share about their life, pray together, search the Scriptures together, care for one another, and step out into the world together from time to time in acts of compassion and justice. For more details about our Life Groups, see our first issue of Devotions for life below. 
"Devotions for Life": A Resource for Life Groups
---
Kids & Young Families:  Between being a smaller congregation and the COVID-19 protocols over the last 18 months, ministering to our children and families has been, like everything else, a challenge. However this has sparked a new ministry for us at Aldersgate called Faith at Home. Pandemic or not, we believe something that has gotten lost in our culture is the Church equipping and resourcing parents to be spiritual guides for our kids. So we've developed a resource called Faith at Home, which is meant to give parents, guardians, and grandparents some tools and guidance about how to connect spiritually at home and as a family. It is our hope that families in our community, would use this resource but then also work to connect with other families socially from time to time. So check out Faith at Home and give us constructive feedback as we work to improve this resource. For more information, see our first issue of Faith at Home below.
Faith at Home: A Resource for Young Families
---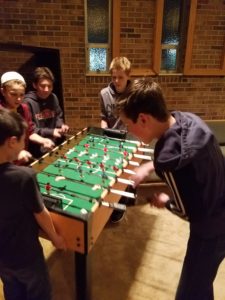 6th-12th Grade: We regret that our Youth Ministry has struggled mightily through COVID. We are currently working to find a new way of tending to the Spiritual needs of our teenagers. If you have thoughts, ideas, and insights on how we might find creative and innovative ways to do just, please contact us. We will be ramping up a confirmation program soon, and our leadership will be looking at how to get our teenagers connected again. Stay tuned! 
---
If you have questions regarding children, youth, or adult groups, contact Pastor Paul.