Welcome to our Life Groups page. Here you will find general information about how we engage in smaller communities from "cradle to grave". If you have questions regarding children, youth, or adult groups, contact

Pastor Paul

.
---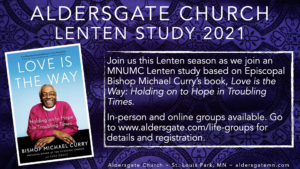 Join us for our 2021 Lenten Study! We will be reading Episcopal Bishop Michael Curry's book, Love is the Way: Holding on to Hope in Troubled Times. Members of the MNUMC appointive cabinet will add a video component to this 6-session study each week. We have a couple in-person groups and an online group available. Click the links below to register. If you have a group that would like to do this study, contact Pastor Paul to get set up!
Order Bishop Michael Curry's book via Cokesbury or Amazon.
---
Kids & Young Families:  COVID-19 has made children's ministry particularly difficult. Kids are built to physically interact with one another, and that just isn't possible for us to do safely right now. And with hybrid and on-line schooling, kids are also fatigued with connecting through online platforms. That said, we still desperately care for you and your kids, and we want to help you however can in their faith development. Every Sunday we will have an age appropriate activity for kids to do, sometimes designed to be done during worship independently and sometimes designed for you to do together at another time. Check out our "Children's Corner" Facebook Page for more updates, resources, and ways to connect as we journey through the Story of God and God's People this year.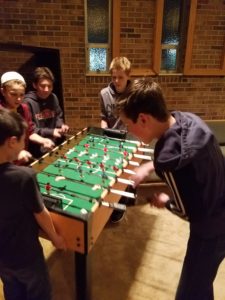 6th-12th Grade Youth Group: COVID-19 has made youth ministry difficult. Teenagers are not designed to be home with their families, but to get out, explore the world and identity, and find connection with their friends. Though they "live online", we have learned that this is also a bit of a myth. They're online a lot, but they too get fatigued of it and long for physical, in-person connection. As students head into online and hybrid learning this Fall, we need to be cautious about community spread and make sure that school is their priority. Because of that we will have a very stripped down in-person ministry, with a brief time of check-in, prayer, and Bible Study from 6:00pm-6:45pm on Wednesdays (following the Youth Handbell Choir rehearsal). We will connect at a minimum of 6′ distance and wear masks, while we seek to remain in community by holding one another up spiritually and emotionally (not physically) and searching the Scriptures together.