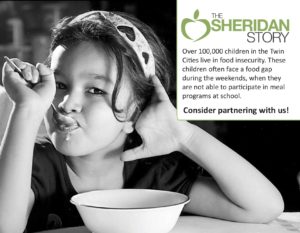 Aldersgate Church is The Sheridan Story sponsor for Aquila Elementary School here in St. Louis Park. The Sheridan Story is an organization that partners with other organizations to close what is called the "weekend food gap" for kids. Kids often go hungry on the weekends and The Sheridan Story works to minimize this by providing a bag of food for kids at the end of every week to help them get through the weekend. The sponsor (that's us!) funds the food and its delivery to the schools, and we help distribute the food into the classrooms at the end of every week (usually Friday mornings at 8:15am).
It costs about $215 dollars to pay for the food for one student each year. Anticipating 40-50 students participating in this at Aquila in the coming year, we're looking at a cost of around $10,000. We need YOUR HELP to get as close to that as we can! Can you help? Can your neighbor? Spread the word and help feeds hungry kids in St. Louis Park with us! To contribute, go to our DONATIONS page, and choose "Miscellaneous Gifts" and type "Sheridan Story" in the empty field.
You can also help by volunteering to deliver food to the classrooms. Just sign up via our Signup Genius page. It only takes about 30-40 minutes, but you do need to be able to do some moderate lifting. We will make sure there is someone there to guide you if you're a first-timer. See the Signup Genius Page for more details.